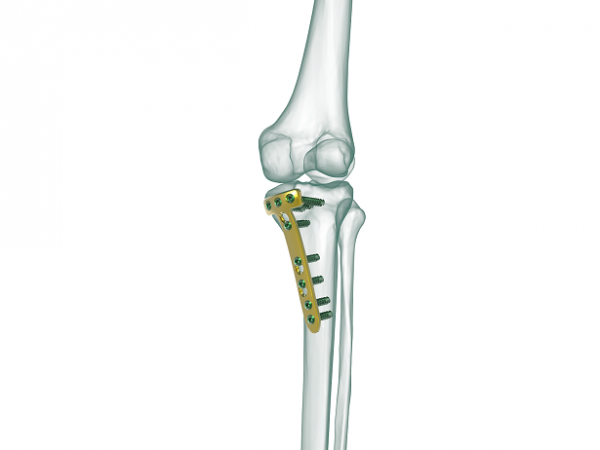 Proximal Tibia High Osteotomy Anatomic Plate
Tibia plateau fractures make up 1-2% of all fractures and are in the third rank of adult fractures in terms of their incidence during 50 years of life. Plateau fractures involving the tibia upper end joint range widely from complex fractures caused by mild injuries.

It is generally seen after high-energy traumas in young people and low-energy traumas in osteoporotic bone in the elderly.
Proximal Tibia High Osteotomy Anatomic Locking Plate, It is designed to rearrange the stress distribution by changing the direction of the load axis passing through the diseased knee joint area, which is subjected to continuous loading, and to stabilize the fractures and deformities.
The plate is designed anatomically curved and low profile,its tapered tips make it easier to settle on the bone. According to the surgeon's preference, two different models are available, wedge and wedge-free. These two different models have 3 different paints from 3 to 7 holes. It can be used with Ø4.5mm locking or unlocking cortical screws or Ø6.5mm locking or unlocking cancellous screws.
Thanks to the Kirschner wire holes, the plate can be temporarily fixed to the tibia, broken pieces can be reduced and the position of the plate relative to the bone can be adjusted.