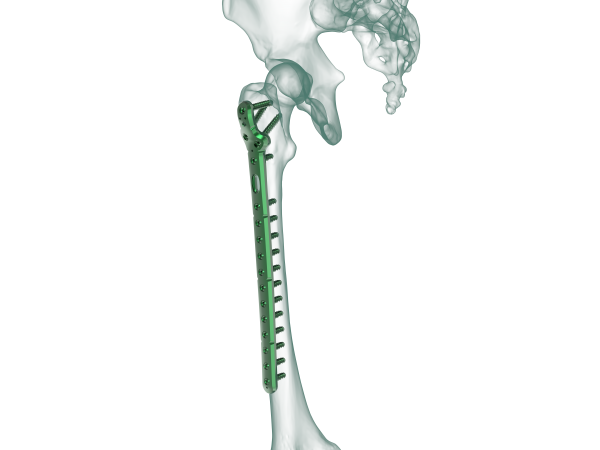 Proximal Femur Lateral Locking Plate
Proximal Femur Lateral Anatomic Locking Plate is designed to stabilize fractures and deformities occurring in the lateral part of the proximal femur. 
The upper end of the femur; It is the bone structure that covers the femoral head, neck and 5 cm distal of the small trochanter. Subtrochanteric femoral fractures make up 7% to 20% of femur fractures. It occurs with high energy trauma at a young age and simple fall at an advanced age. Trochanteric fractures make up 55% of femoral upper end fractures and are mostly seen in elderly, osteoporotic patients. As an alternative to existing fixation methods for both trochanteric region and subtrochantanteric region fractures, locking anatomic plates for proximal femur fractures have been designed.
It has 2 types, right and left, and has 16 different hole numbers from 3 to 19. The plate can be used with Ø4.5mm locking or unlocking cortical screws or Ø6.5mm locking or unlocking cancellous screws, depending on the surgeon's preference.
The plate is anatomically shaped. It is designed to minimize soft tissue irritation. Thanks to the conical ends of the plate, its placement on the bone is easier.