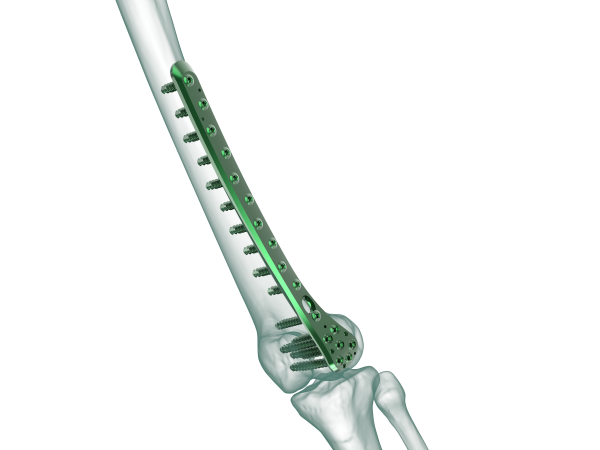 Distal Femur Lateral Locking Plate
Distal Femur Lateral Anatomical Locking Plate is designed to stabilize fractures and deformities occurring in the lateral part of the distal femur. 
Sağ ve sol olmak üzere 2 çeşittir ve 3 ila 19 arasında 9 farklı delik sayısına sahiptir. Plak, cerrahın tercihine göre Ø4.5mm kilitli veya kilitsiz kortikal vidalar veya Ø6.5mm kilitli veya kilitsiz kansellöz vidalar ile kullanılabilmektedir.
Plak, anatomik olarak şekillendirilmiştir. Yumuşak doku tahrişini en aza indirecek şekilde tasarlanmıştır. Plağın konik uçları sayesinde kemik üzerine yerleşimi kolaylaşır.
The extended boiler hole on the shaft helps position the plate. Thanks to the Kirschner wire holes, the plate can be temporarily fixed to the tibia, broken pieces can be reduced and the position of the plate relative to the bone can be adjusted.